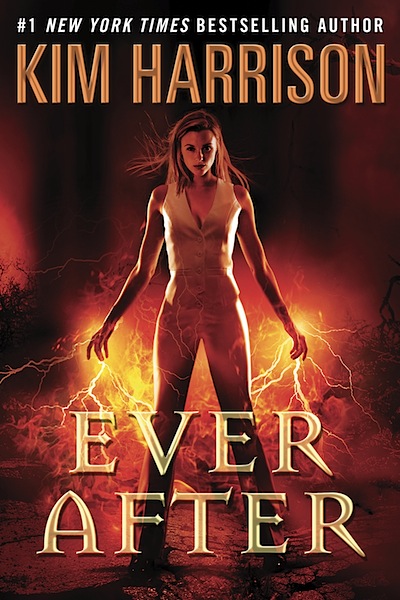 Reviewed by: Aimee
Source: Review copy from Publisher
Rating: 5 out of 5 (♥ ♥ ♥ ♥ ♥)
"What are you doing now?" Al questioned "Seeing if your circumcision is gone? It is."

My expression went blank, and Trent hesitated.

He looked at me, and I put a hand to my mouth, face flaming. "Oh. My. God. Trent. I'm sorry"

"Um" Trent said, clearly at a loss.

"Call me tomorrow," Al said seriously, "I've got a curse that will take care of that. Unless you like the snake in a turtleneck look"
What. A. Ride. Another brilliant home run for Kim Harrison. This book and
Pale Demon
might possibly be my favorite books to date out of this whole series. And I got exactly what I was desperately missing from the previous book,
A Perfect Blood
, more Al, Newt, and the ever-after. Just like
Pale Demon
,
Ever After
is packed with action, excitement, and truly clever and interesting developments.
Kim Harrison has a very creative imagination and I LOVE it! I had a hard time putting this book down to see to the responsibilities in my own life… like the feeding and caring of my kids. Sadly, it's a good but unfortunate indicator that a book is truly awesome when my family suffers from super quick meals and an extremely early bedtime schedule.
There are lots of twists and turns that I'd love to gush about like a silly little fangirl, but I won't ruin the story for you by spilling spoilage all over this review. Despite the excitement trying desperately to burst forth from my lips, I am going to bite my tongue. Hard. And keep my big mouth shut. I'll use duck tape, if necessary. So lets get on with what I CAN tell you...
One thing solidified for me while reading Ever After.
A Perfect Blood
really was the odd book out. I'm not sure if any of the elements of that story will be revisited in the next and last two books. But nothing from that story made it's way into
Ever After
except for the brief appearance of Felix and Nina. In fact,
A Perfect Blood
now seems like an intermission between
Pale Demon
and
Ever After
, because Ku'Sox is back on the scene. Now he's causing problems for Rachel and Al by tampering with the ley line she accidentally made to quicken it's pace in the destruction of the ever-after. Along with tampering with the ley lines, Ku'Sox is also stealing rosewood babies for some nefarious and mysterious reasons. I must admit, this part of the story made me really uncomfortable. I don't like when innocent children are victimized in stories. So I was on pins and needles knowing these kids were in the hands of the Demon that consumes souls. This predicament, of course, has the demon collective gunning for Rachel's head if she doesn't fix the problem and the world above wondering if Rachel isn't the one responsible for the missing rosewood babies. But what book wouldn't be exciting if Rachel's life wasn't in peril? Running for her life has been her standard MO since book one. If it isn't the FIB it's always going to be someone.
We do get to see some interesting developments for the sweet little gargoyle Bis and also some interesting dynamics developing between Jenks and the wingless fairy, Belle. But we don't get to see much of Ivy in this particular book, or the wolf pack for that matter. I can't say that I'm sorry about that either. I was always a little bit annoyed with the whole Rachel--Ivy struggle. Mostly because it seemed to continue on relentlessly through most of the books and it was never a part of the story I connected with. But I would like to see some resolution for all of the vampires without their souls. To see that Rynn Cormels faith and absolute demand in Rachel's abilities is not misplaced. I've got my fingers crossed.
This book was a blast and a page turner.
Ever After
will not disappoint any of you faithful Hollows fans. It's most definitely the answer to any ever-after, newt and Al deficiency you may have been suffering from the previous installment. Unfortunately, there are only two books left in this series. Which makes me very sad. I hate it when a really good series comes to an end. But I'm really looking forward to the resolutions Kim Harrison has planned for the ever-after and what's going to come next for Al, Rachel and Trent. It's quite bittersweet actually. I'm extremely excited and can't wait for the next installment but equally bummed that it's all going to come to a complete and final END. I think I shall have to cry.
If you're a newbie to The Hollows and haven't picked up this series before, do so NOW by picking up the first book
Dead Witch Walking
and join the rest of us in an alternate reality where bioengineered tomatoes nearly wiped out the human race and exposed the supernaturals from the ever-after living among them incognito. This is one series that should be on everyone's favorite list. It's literally at the top of my list of all time favorites. It's also one of the few series where the narrator for the audiobook format, Marguerite Gavin, is absolutely perfect!